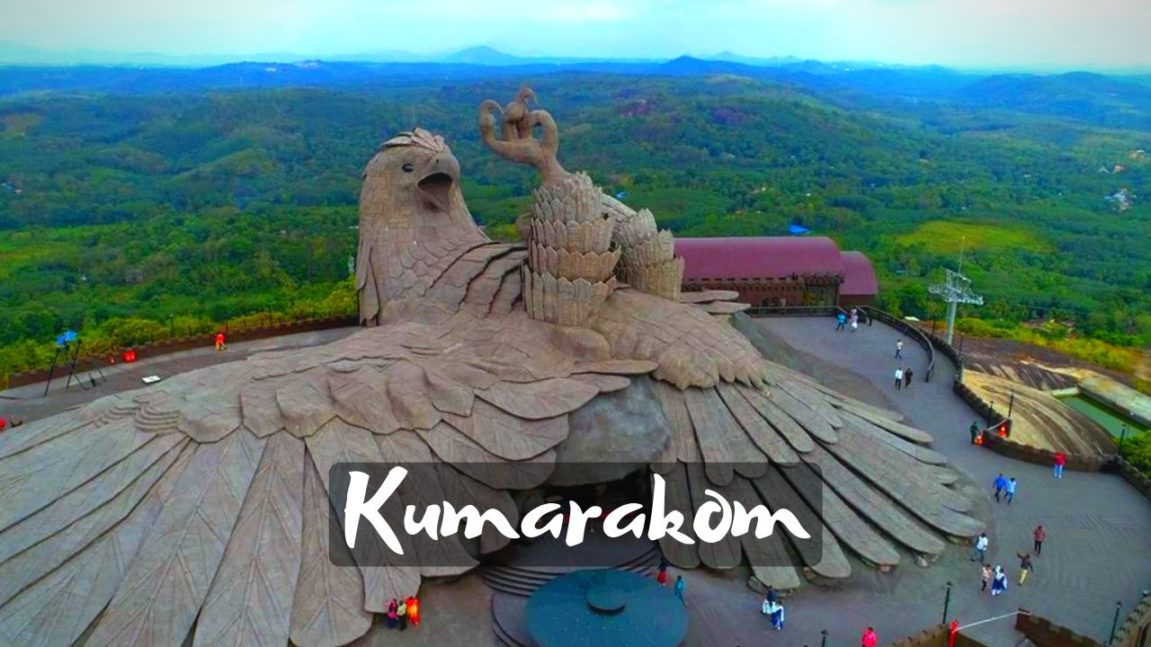 10 Places to visit in Kumarakom – Holidays at Gemstone of Kerala
Kumarakom is a fascinating city of Kerala & it is a perfect blend of rich culture and natural beauty. Here in the city, everyone can find something according to their taste. There are many activities and sightseeing to try such as exploring a wildlife sanctuary, the food at toddy shops, sunset from Kumarakom beach and many places are worth visiting for making a holiday memorable. Tourists have several options to stay in the city such as riverside resorts, house-boats and many hills facing bungalow. So, I have arranged a list of tourist places to visit in Kumarakom which you include in your bucket list.
Famous Tourist places at Gemstone of Kerala – Kumarakom
Jatayu Rock
Bay Island Driftwood Museum
Kumarakom backwaters
Aruvikkuzhi Waterfalls
Pathiramanal Island
Bird Sanctuary
Kumarakom Craft Museum
Kumarakom Beach
Toddy shops
Thanneermukkom Bund
Ancient Shiva temple
1. Famous Jatayu Rock
Jatayu Park is one of the largest parks in India and spread over 65 acres of land. As the name suggests, the park is inspired by a mythological character of Jatayu from Ramayana. Jatayu helped Ram Sena in finding Sita Mata and the park is made where this mighty bird died while fighting Ravana. For a better view of the park, you can take your drone here for an aerial view of the place. Jatayu Park is open every day and attracts thousands of tourists.
Visiting hours: 10:00AM – 5:00PM
Entry Fee: INR400 per person
Trip Duration: Around 2 hours
Suggested Read: Activities to enjoy at Kumarakom for blissful holiday
2. Bay Island Driftwood Museum
The museum is a very majestic place and on visiting here you can sculpture, and several items made of wood. The wood for making items here is not collected by cutting trees, the wood is taken from the shores of Bay of Bengal. After cyclones and bad sea conditions, the twisted trunks, roots, branches are collected for making beautiful sculptures and the maker of these masterpieces has also been featured in "Limca Book of World Record".
Visiting hours: 10:00AM – 5:00PM
Entry fee: INR 50 per person
Trip Duration: Around 1-2 Hour
3. Houseboats at Kumarakom Backwaters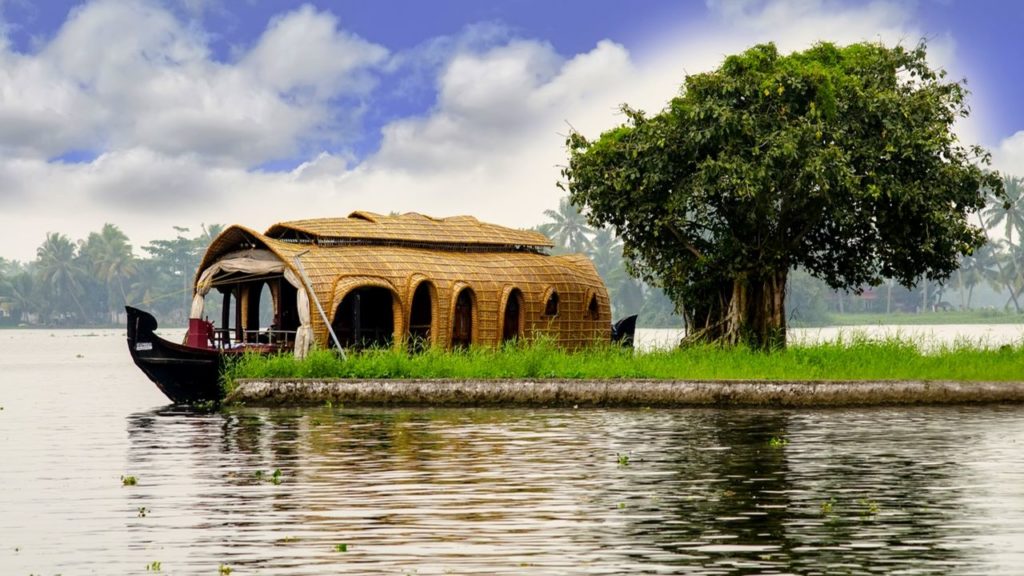 Backwaters splendid beauty of the landscape surrounded by green hills, coconut trees, and Chinese fishing nets. The place is the most visited place in Kumarakom. You can spend a day in luxury boats and here you will be served with food and a guide for safety.
Location: Vembanad Lake
Visiting hours: 8:00AM to 6:00PM
Trip Duration: Around 3 hours
Suggested Read: Activities to enjoy at Varkala for a fascinating holiday
4. Aruvikkuzhi Waterfalls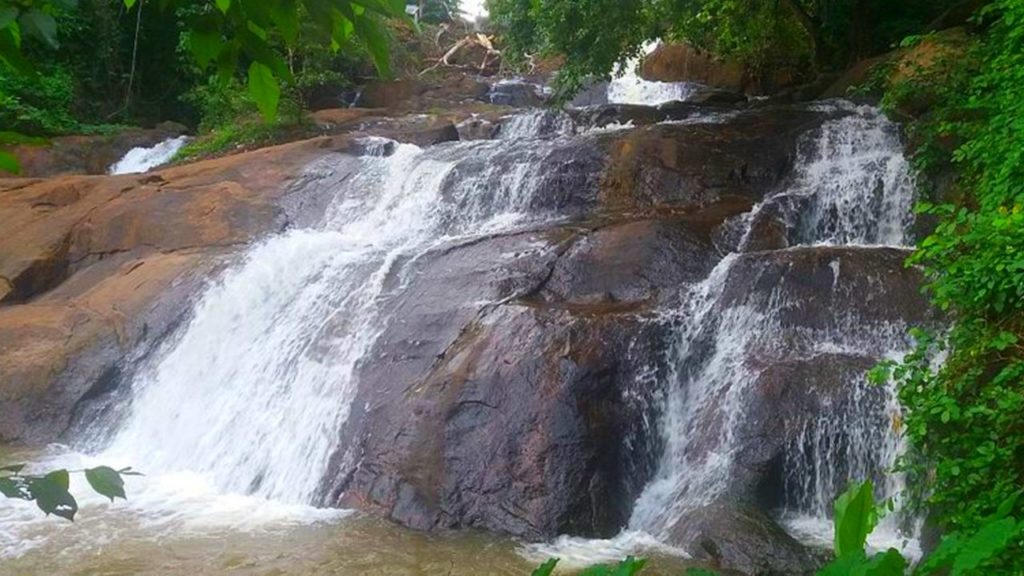 The Aruvikkuzhi waterfall is mostly visited by tourists for a picnic and the best time for visiting the place is in winter and monsoon season because in summer the waterfall dries up and due to hot weather, it is not suitable for visiting in summer. The best thing about the place is that the waterfall forms a water pool on base and ideal for swimming. As there is no entry fee so you can spend as much time as you want.
Visit timings: 6:00AM – 7:00PM
Room fee: Free
Ideal Duration: Around 1 hour
5. Beautiful Pathiramanal Island
Pathiramanal Island is a small island and ideal for visiting and staying for a day. The island attracts around 140 species of migratory birds. To reach the island you can hire a boat on rent, and you must carry a camera for shooting the bird's beauty. The island floats Vembanad Lake and the place is surrounded by lavish green beauty. There are many packages available to choose from which will add comfort and services.
Visiting Timings: 8:00AM – 6:00PM
Entry fee: Prices of packages vary
Trip Duration: Around 1-2 Hours
6. Bird Sanctuary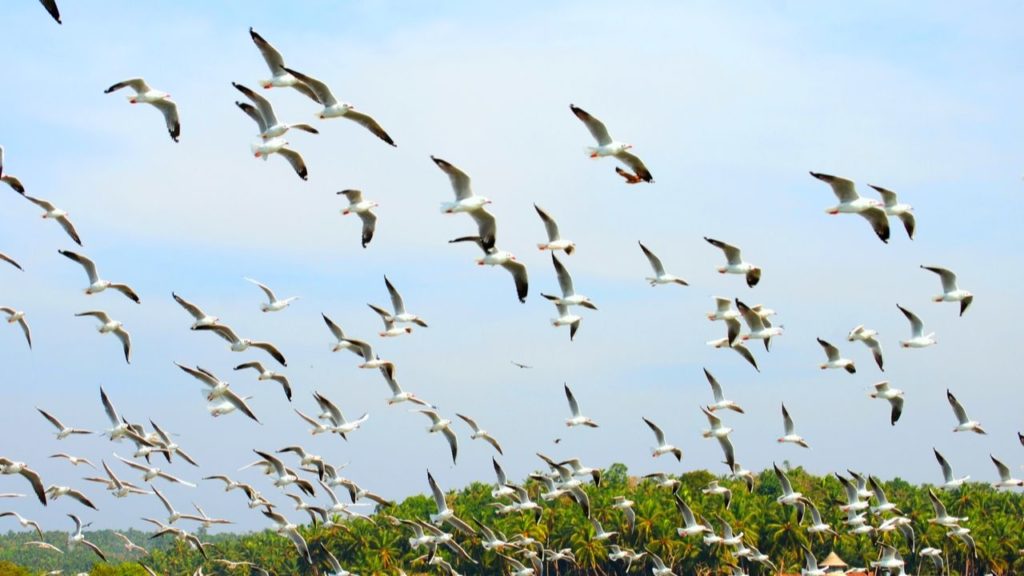 Vembanad Lake is a perfect place for birdwatchers. The sanctuary is surrounded by lush green forests and is home to many migratory birds. To reach the sanctuary you can take a boat ride and it takes around 10-minute. Photography is allowed here to capture the real beauty of nature and beautiful birds, the sanctuary do charge some fees for the camera.
Visiting hours = 8:00AM – 6:00PM
Entry Fee = INR50 – INR100
Trip Duration = Around 2 Hours
Suggested Read: Famous Activities at Poovar for a Peaceful Holiday
7. Antiques at Craft Museum
Craft Museum is visited by many tourists and the museum displays a collection of various rare and antique items. There are many antique idols of Gods and Goddesses, also you can buy some items like key chains, houseboats models and many animal statues. The place is blended with cultural and historical significance, during weekends the place is mostly visited by locals and tourists.
Visiting hours: 10:00AM – 7:00PM
Location: Old Curiosity Shop Kumarakom, Kottayam
Charges: Entry by-pass only
8. A day at Kumarakom Beach
It is famous among adventure seekers and for couples who seek beautiful sunsets. There are many activities to be a part of like parasailing, skiing, surfing and sunset views. Being one of the most visited places in Kumarakom the beach also has a luxurious Kumarakom Lake Resort. At the place, you can have seafood which is best in town and near the beach, there are many food shops.
Visiting hours: 9:00AM – 6:00PM
Trip Duration: Around 1-2 hours
Entry Fee: Free
9. Thanneermukkom Bund – Largest Mud regulator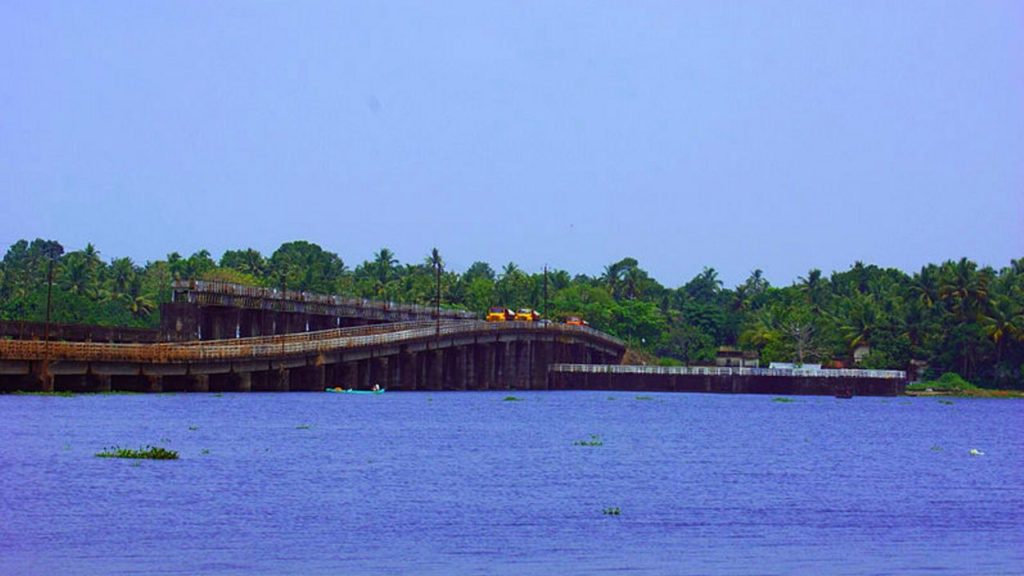 The Thanneermukkom Bund is the largest mud regulator in the whole of India and the barrier divides the lake into two parts and the purpose of the bund was to prevent tidal actions. Many tourists visit here to admiring the green surrounding and blue sky with the beautiful water body. For better experience and boating in the lake, you can rent a boat.
Visiting hours: All-day
Trip Duration: Around 1 hour
Location: Kuttanad, Vembanad Lake
Suggested Read: Activities to Enjoy at Munnar for Memorable Vacation
10. Ancient Shiva Temple
The Ancient Shiva Temple is located near Vazhamana Road in Vaikom and on the temple ceiling narration of Ramayana is sculpted. There is a statue of Nataraja also known as Shiva and at the center, there is a lamp that always lit. In the month of February, a celebration of light is held here which lasts around 10 days.
Visiting hours: 5:00AM – 9:00PM
Entry fee: Free
Trip Duration: Around 1 hour
Frequently Asked Questions?
Q. How to reach Kumarakom?
By Air – Nearest airport from Kumarakom is Kochi Airport (42 km).
By Rail – Nearest Railway station from Kumarakom is Kottayam Railway Station and the station is connected to the major cities of India.
By Road – There are regular bus and taxis services all around the city.
Q. Is it important to hire a Guide?
There are many places where you can get lost while travelling alone so you should hire a travel guide to explore places without any problem. 
Q. Best Time to visit Kumarakom?
Best time to visit the place is during the winter season as the weather becomes pleasant. Monsoon is better for bird watching here and the ideal trip duration for Kumarakom to explore is around 4 days.