5 Awesome Things to do in Kannur for a charming vacation
Kannur is a beautiful destination in Kerala & it is also known Cannanore. It offers multiple tourist places and activities for travelers like Trekking, local Shopping, Watching the sunset, etc. There are several high-altitude hills where you can go for trekking and camping. So, I have made a list of places where you can do these activities during your Trip.
Famous Activities to Enjoy at Crown city of Kerala – Kannur
1. Trekking in Kannur
Several hills in Kannur are the perfect spot for trekking and hiking. The Paithalmala peak is the tallest in Kannur and very popular among trekking lovers. The trekking trail is of 6 km and through the trek, you will encounter with dense forests. You can go for a trek without any guide but you must carry a raincoat and wear comfortable clothes to avoid any kind of discomfort. You can go for trekking at any time of year to enjoy the trip.
Visiting hours: 9:00AM – 6:00PM
Entry fee: Free
Trip Duration: Around 2-3 hours
Must Read: Famous Places at the Crown city of Kerala – Kannur
2. Shopping in Kannur
Every trip to a fascinating place is incomplete without shopping & there are many markets and Malls from where you can buy the branded items, handmade products and jewellery. One of the best things that you must buy in Kannur is Wooden kathakali face mask and various decorating items.
Location: Fort-light Complex, Fort Road, Kannur city centre
Visiting hours: 9:00AM – 9:00PM
Trip Duration: Around 1-2 Hours
3. Sunset points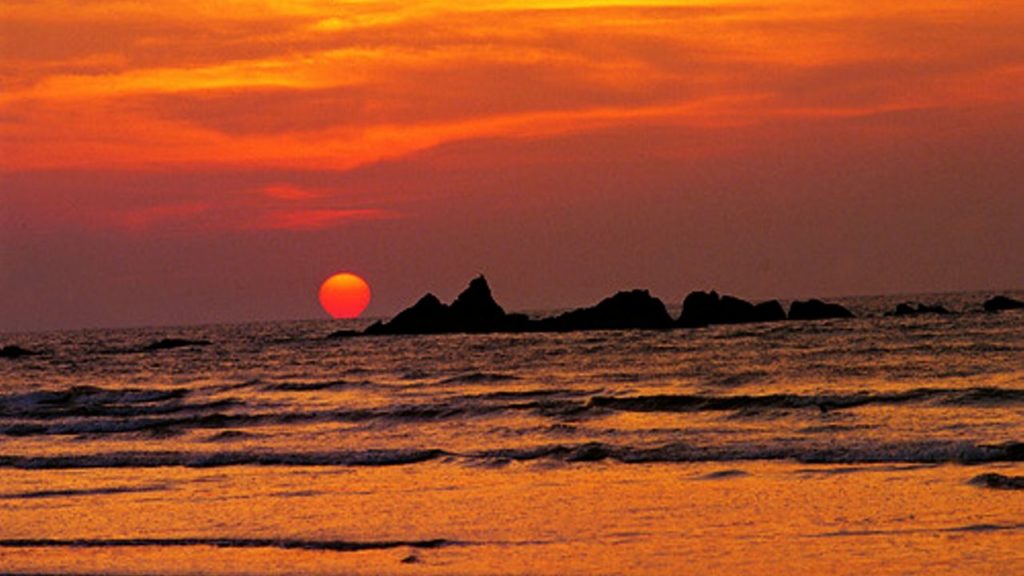 For the best sunset view, you can go to Lighthouse or beaches, the lighthouse is a 75 feet tall structure from where you can have a panoramic view of the city also the best sunset view. Views from beaches are best seeing the sunset and the reflection in the ocean is just fascinating.
Visit timings: 9:00AM – 6:00PM
Charges: Free
Ideal Duration: Less than 1 hour
Must Read: Thrilling Activities to enjoy at beautiful nature of Wayanad
4. Vismaya Water park
This park is a water-themed park that is spread over 30 acres of land and is famous for its thrilling water sports and amusing rides. The park also hosts a rainwater harvesting project that makes this water park environment-friendly. The water park was constructed in 2008 and hosts restaurants, shops, and halls. There are many rides that you can enjoy such as water slides, splash pools, water rainbow, mirror maze, striking car, free fall and many more. For some thrill, you can choose thrill rides like a giant wheel or a visit to Horror cave.
There is an artificial waterfall in the water park that is an ideal place for swimming. Another major attraction in Vismaya water park is a laser show where you can enjoy fountains, music and light shows.
Visiting hours: 11:00AM – 6:00PM
Trip Duration: Around 2-3 hours
Entry Fee: INR450 onwards
5. Explore Peralassery town
Peralassery town is one of the most visited places in Kannur and the town is famous for its Subrahmanya temple. According to legends, it is believed that Lord Ram and his brother Lord Laxman stayed at this temple while in search of Goddess Sita. At the temple, there is a pond which looks gorgeous. The place is perfect for religious people and tourists can also enjoy Kodiyettam festival.
Entry fee: Free
Trip Duration: Around 2 hours
Suggested Read: Famous Visiting Places at the gem of Kerala – Wayanad
Frequently Asked Question?
Q. Why Kannur is Famous?
This city is famous for the natural view and environment of the location. It offers many sunsets and trekking options for Travelers.
A. Best time to visit Kannur?
Best time to visit in the Winter season that is between October to February.