Best Tourist Places to visit in Nainital Exciting Trip
Nainital is a beautiful destination in Uttarakhand, which is situated in the middle of Kumaon Hills. The name of Nainital is taken from a uniquely shaped lake known as "Naini Lake". Nainital is also known as City of Lakes and it has snow-capped hills and calm lakes.
This place is situated at an altitude of 1930M above sea level and the climate is pleasant. Nainital has everything for every tourist, you name it you'll get it, like beautiful weather, lakes, adventure, food, shopping that too with quality. Most of the lakes offer various activities such as paddle boating and row boating. This place is popular among 2-day trips near Delhi, as it's just 290 km from Delhi.
Tourist places in Nainital with Beautiful Sightseeing
Naini Lake
Naina Devi Temple
Tiffin Top (Dorothy's Seat)
Snow View Point
Eco Cave Park
Mall Road
Nainital Zoo
Hanuman Garhi Temple
Nainital Ropeway
Raj Bhawan
Sariyatal
1. Naini Lake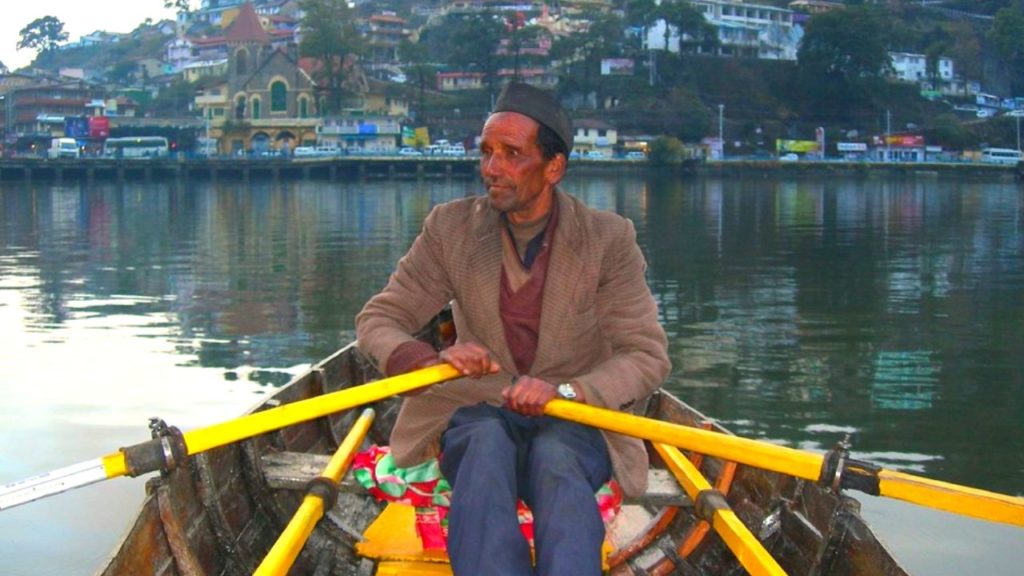 It has a speechless beauty that is surrounded by seven different peaks. The lake is divided into two distinct sections, the northern part called Mallital and the southern part called Tallital. Naini lake is a hotspot for a family picnic and the lake offers a breath-taking view, especially during early morning and sunset. People who visit here also visit Naini temple, boating, long evening walks, these are some of the things that are a must to do.
Timings: 6:00 AM to 6:00 PM
Entry Fee: Free
Exploring Time: 1-2 hours
Must Read: Famous Activities in The City of Lakes – Nainital
2. Naina Devi Temple
This temple was built in the 15 A.D. and due to landslide it was demolished in 1880 and rebuilt in 1883 by local inhabitants of the area. This temple is situated in the north of Naini Lake. When you enter the temple, you will find two eyes on the roof and the door of the temple is marked by a Peepal tree to the left.
Every year since 1918 a grand statue immersion ceremony takes place here also a vibrant eight-day Nanda Ashtami festival is celebrated which is attended by a large crowd of people from all over the country.
Timings: 6:00 AM to 10:00 PM
Entry Fee: Free
Exploring Time: 1-2 hours
3. Tiffin Top (Dorothy's Seat)
This is a very famous tourist attraction and a fantastic picnic spot in Nainital. One gets a complete view of the town of Nainital and surrounding. People come here for rappelling and rock climbing and a beautiful environment is heaven for photographers. Fun fact is that this place got its name when people started to have lunch on top of the hill on Dorothy's Seat. In the memory of an English artist named Dorothy Kellet and so is called Dorothy's Seat.
Timings: 6:00 AM to 10:00 PM
Entry Fee: Free
Exploring Time: 3-4 hours
Activities: Hiking, Sightseeing, Rock climbing, Pony Rides.
Pony rides cost can range from INR500 – INR700
Suggested Read: Tourist Places at Almora for A Lovely Trip
4. Snow View Point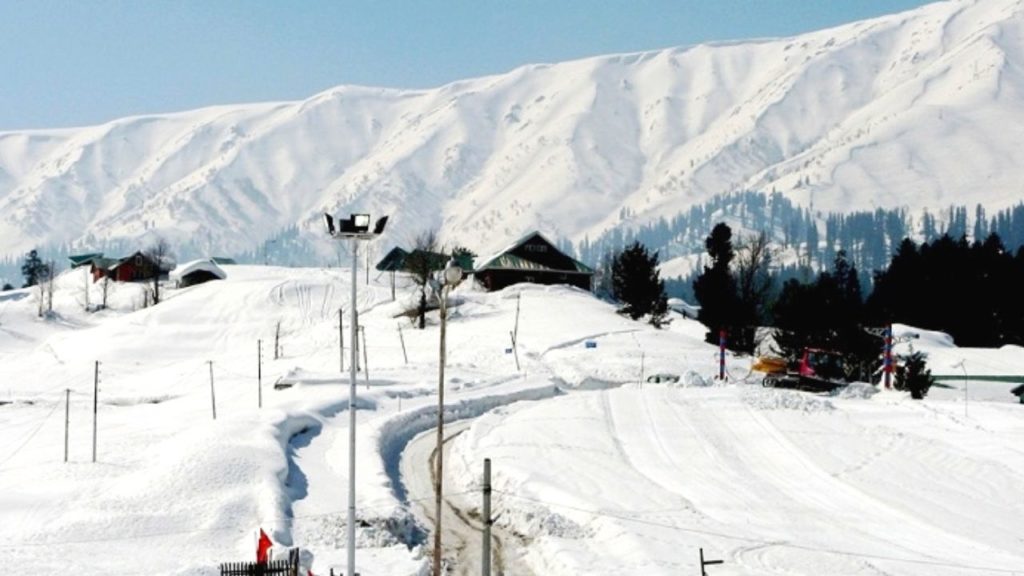 This Point is one of the most attractive tourist spots in the area and stands at an altitude of 2270 meters. This place offers a panoramic view of the Himalayas wrapped in a blanket of snow. This place stands at an elevation from Mall Road to Mallital. One can get to this point by the Aerial Cable car. Cable car pickup point is in front of the Naini Lake and charges for one way are INR80 for adults and INR40 for children.
Timings: 6:00 AM to 10:00 PM
Entry Fee: Free
Exploring Time: 2-3 hours
Activities
At a snow viewpoint, there is a huge pair of binoculars installed that allows you to take a close look at the Himalayan range.
There are guns loaded with empty bullet shells, for INR30 you get 6 chances to shoot at targets that hung up near and far.
Arcades and fair games for children.
5. Eco Cave Gardens
This place is located at 1.5 km from Nainital Lake and it is a newly developed tourist spot located in Sukhatal in Nainital. This place is famous for its interconnected rocky caves, hanging gardens and musical fountains. Garden has underground six small caves in the shape of various animals named tiger cave, flying fox, bats cave, squirrel cave, panther cave. At the top of the hill, there is one small garden where tourists can enjoy the panoramic views of beautiful cliffs.
Timings: 09:30 AM to 05:30 PM
Entry Fee: Adults – INR20, Children – INR10 & Camera charges – INR25
Exploring Time: 2-3 hours
6. Mall Road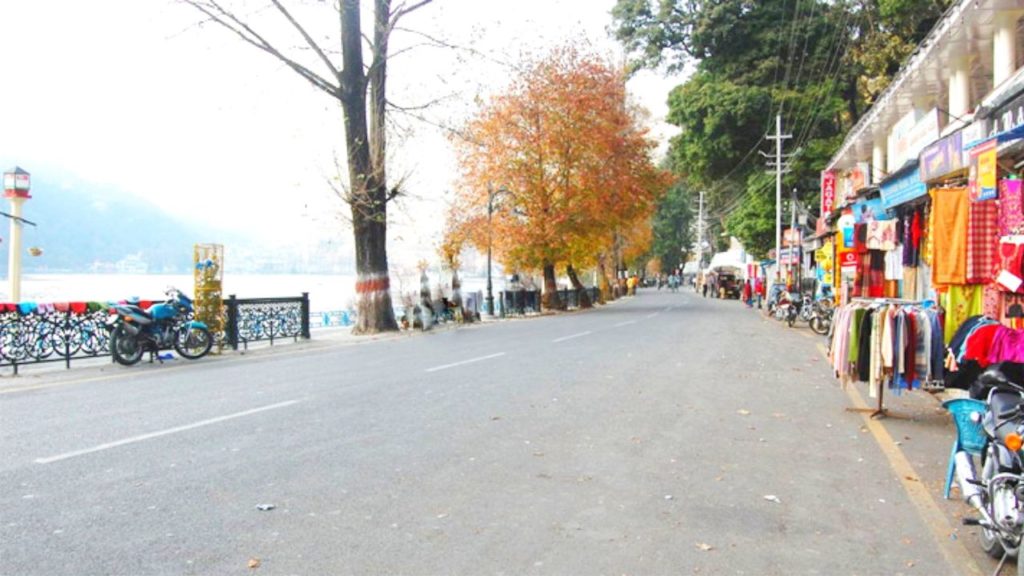 This is located at parallel to the Naini Lake, this place connects the two ends of the hill town. This place is best for prime shopping, food, and the cultural center of Nainital. During daytime Mall road is over-crowded and there are restaurants, banks, travel agencies, and shops. Many of the shops sell wooden artifacts, handicraft items, handmade handlooms, and shawls.
Note: The mall road is strictly a no parking zone and during season time traffic is prohibited from 6 PM to 9 PM.
Timings: 09:00 AM to 10:00 PM
Entry Fee: Free
Exploration time: 2-3 hours
Suggested Read: Famous Places at Peaceful Hillstation – Ranikhet
7. Nainital Zoo
Zoo is the best attractions for wildlife lovers and this is a single zoo in the entire Uttarakhand state and it was established in 1984 situated at a height of 2100 meters and spread over an area of 4.6 hectares. This place is one of the famous tourist spots and home to several endangered species. The steep that leads to the zoo is motorable, but the private vehicle is prohibited, and one can reach the zoo by sharing a cab or walk up to the hill.
Timings:10:00 AM to 04:30 PM
Entry Fee: Adults – INR 50, Children – INR 20
Camera charges: INR 25, Video Camera = INR 200
Exploration Time: 2-3 hours
Notes
Nainital zoo is closed on Mondays, Diwali, and Holi.
Free entry for senior citizens and disabled persons.
Free entry for the student on several occasions.
8. Hanuman Garhi Temple
Temple is situated at an altitude of 6,401 feet. This temple was built by Neem Karoli Baba, who is a famous saint. This temple is dedicated to Hanuman, a devotee of Lord Rama. Hanuman Garhi temple is easily accessible by road and as this temple is built oh hill, one can view the magnificent sunset, sunrise.
This temple is mostly crowded on Tuesday, Saturday, Ramanavami and other important festivals.
Timings: 05:00 AM-12:00 PM & 4:00 PM-9:00 PM
Entry Fee: Free
Exploration time: 1-2 hours
9. Nainital Ropeway
Ropeway is one of the most popular attractions in the city of Nainital. The Nainital ropeway connects the Mallital to the Snow viewpoint, to the height of 2270 meters. This aerial trip hovers over the Naini lake and offers a panoramic view of beautiful landscapes. Tourist who comes to Nainital takes this adventure ride and it takes less than 3 minutes to reach Snow View Point.
Timings: 10:00 AM to 04:00 PM
Entry Fee: Adults – INR 150 & Children – INR 100
Exploration time: 1 hour
Suggested Read: Activities to Enjoy at Yoga capital of the world – Rishikesh
10. Raj Bhawan
It was built in 1936 and also called as Governor's house. It also serves as the official residence of Governor of Uttarakhand. Previously Raj Bhawan was served as the summer residence of British Governors. It is built as a replica of Buckingham Palace in the Victorian Gothic style and it is spread over 220 acres with a Golf course in 45 acres of land. This building consists of 113 rooms.
Timings: 08:00 AM to 05:00 PM (Closed on Sundays)
Entry Fee: For Raj Bhawan – INR 50
Raj Bhawan Golf Course: INR 450
Exploration time: 1-2 hours
11. Sariyatal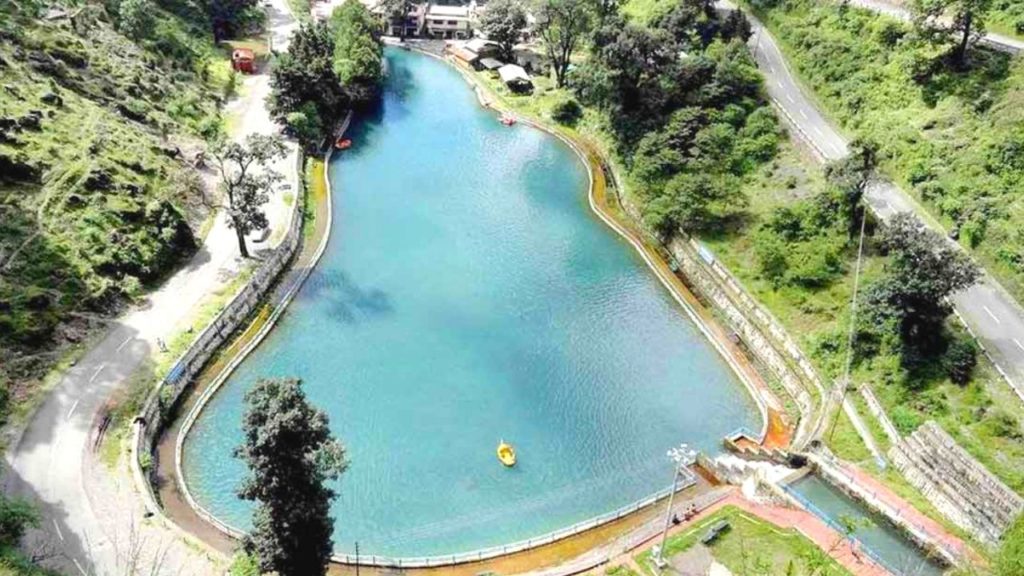 It is among the numerous lakes and is fed by a beautiful stream surrounded by a lush green landscape. Sariyatal is also famous for the Himalayan Botanical garden which is run by the forest department. The tiny lake has numerous activities like paddle boating, water sports.
Timings: 10:00 AM to 05:00 PM
Entry Fee: INR 20
Exploration time: 2-3 hours
Must Read: Famous Activities in The City of Lakes – Nainital
Frequently Asked Questions?
Q. How to reach Nainital?
A. By Air = Nearest airport is Pantnagar and located around 23Km away from the Nainital. Pantnagar Airport is connected with almost every major cities of India like Delhi and Mumbai.
By Road = If you traveling by road then there are regular buses are available from Delhi
By Train = If you want to travel by train then you can select this option and the nearest railway station is Khatgodam which is located around 25Km away from this station.
Q. Best time to visit Nainital?
A. Nainital is basically famous for the Hill station and you can visit here all the time in a year except monsoon because in monsoon Uttarakhand receives heavy rainfall.
Q. What type of food is available in Nainital?
A. In Nainital, there are Veg and Non-Veg both options are available for travellers. You can enjoy both according to your choice.
Q. Famous places to visit in Nainital?
A. There are many famous places in Nainital like Naini Lake, Naina Devi Temple, Tiffin Top (Dorothy's Seat), Snow View Point and Eco Cave Park.