Camping, River Rafting & Neer Waterfall Trekking at Rishikesh
Hello, Namaste, and welcome to my blog, It's your Roshan Panjiyara and in this article, I am sharing my Rishikesh adventure traveling experience. This is my first trip, where I am going to speak in front of the camera and public or you can say this is the first time I am going to vlog, so I feel a little bit confused or hesitant while speaking. This trip was full of adventures like Camping, River Rafting, Neer waterfall Trekking, and experience Ganga Aarti at Har Ki Pauri, Haridwar.
Adventure Trip at the Land of God – Rishikesh & Haridwar
Delhi to Rishikesh Travel
Okay without further delay let's start my travel story. My trip was started from Munirka Metro Station – Delhi and this is our meeting point. We were very excited about this River Rafting Trip, around 9 O'clock our bus was started from Monika. During our journey, we all enjoyed a lot & our bus driver stopped the bus at a Dhaba for short relief. We were ordered tea and snacks because we feel hungry, after the short relief we all are completely full of energy and ready for the 5-7 hour long journey. Our bus was started at the Dhaba( Restaurants ) around 01:30 AM.
Here, I am sharing my Day 1 Travel experience in Video Vlog, and the Vlog is available in the Hindi language. If you are not familiar with the Hindi Language then please avoid this video and you please continue the reading.
Video Vlog
Delhi ⇒ Rishikesh ⇒ Shivpuri Camp
Finally, we reached Rishikesh around 10:00 AM and we are check-in in our camp at Jungal Retreat Resort. This was my first experience where I am going to stay in the camp, so I was very excited about camping. If I am talking about service of the camp then according to me camp service was pretty awesome and many fun activities are arranged by camp management like cricket, badminton and many more. After check-in, we go for breakfast that is included in our Travel Package.
River Rafting in Rishikesh – ( Day = 1 )
After completing our morning routine and breakfast we were met at the campground where our instructor entered to share information about River rafting. Around 11:45 AM we were processed for the river rafting. We were set on the bus for Shivpuri because Shivpuri is the starting point of rafting, where we are going to enjoy this adventure activity. When we reached the starting point then our raft instructor also shared the complete information about Rafting Safety and Rules.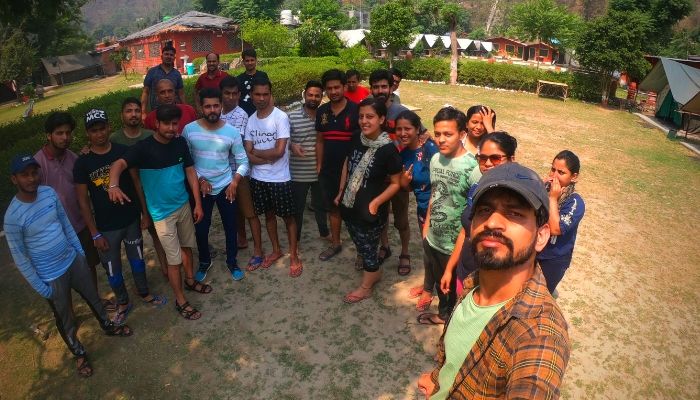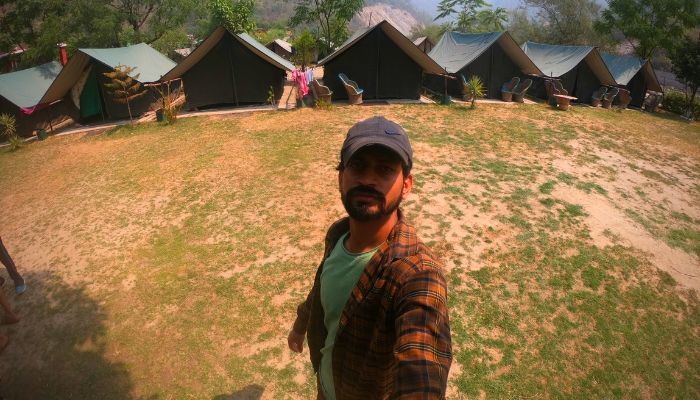 We staring river rafting, around 12:45 PM from Shivpuri and If I am talking about it rafting experience, it was unspeakable. During the rafting, we face 5 major rapid-fire, where our rafting experience is more adventurous. We cross 5 rapid-fire without any problems, we stopped at Maggi's point, where we eat Maggi. Maggi's point is located between Shivpuri and Laxman Jhula and this point is also famous for the cliff jumping point & whare people were jump in the Ganga river approximately 10-12 meters high. If you don't do this activity during your trip then you have to miss awesome adventures things in Rishikesh.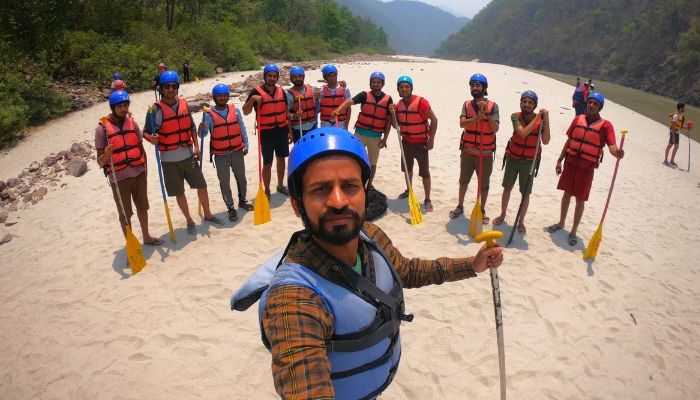 Finally, our raft instructor called our team for final destination Laxman Jhula. We were reached Laxman Laxman Jhula approx 20-25 minutes. Again we were done the same vice-verse, set at the bus, reached the camp, and finish our lunch.
In the evening time, Musical Chair was organized by the camp management and host by one an only your Roshan Panjiyara. The winner of this game is one of our team members, his name is Vishwas. Additionally, we enjoyed the dance performance which is done by Me and our group member and here I am going to finish the first day of travel.
So Good Night All… Bye Bye
Hahaha…..I am Just Kidding……………………. Enjoy Reading.
Trekking in Rishikesh – ( Day = 2 )
This time to say Good morning Rishikesh, I wake up late because of feeling tired. When everybody is enjoying outside the camp and I sleeping inside the camp that sounds funny…Hahaha, I know Par Me Aesa Hi Hu Sone Ke Mamale Me. I walk up around 10:00 Am & If I am talking about the view from the camp then, I never saw this type of view in my life one river is flowing near the camp, so I can hear the sound of the flowing water and the natural view from the camp inconceivable.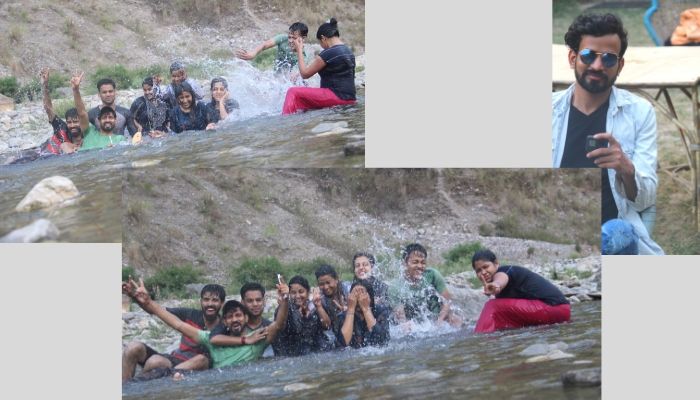 I completed my morning routine fastly because I am the only person who is not prepared for the checkout from the camp. After some time I have done all the processes within 30 minutes. We checkout from the camp and proceed for our next destination that was Neer Waterfall. We will be reached within 2 hours from Shivpuri and Small trekking is done by our Group to reach this Destination. Well, we all enjoyed it a lot at this location for around 2 hours.
Video Vlog
Shivpuri Camp ⇒ Neer Waterfall Trekking ⇒ Har ki Pauri, Haridwar
Note = Again this Video vlog is available in the Hindi language if you are familiar with the Hindi language then please continue reading because I am sharing information for the Indian audience in video form.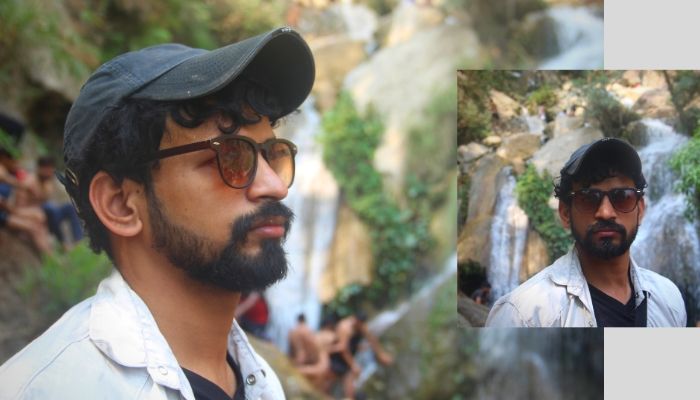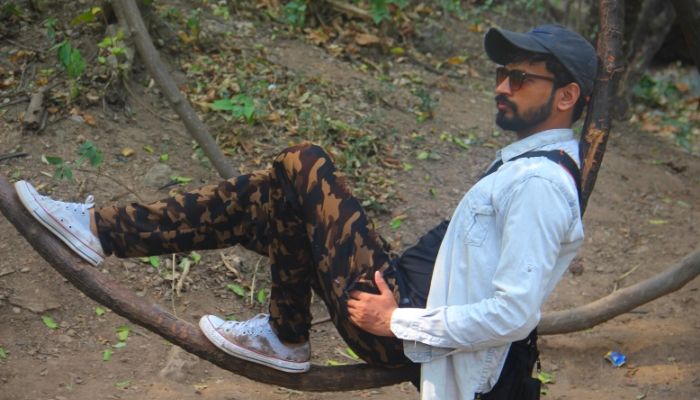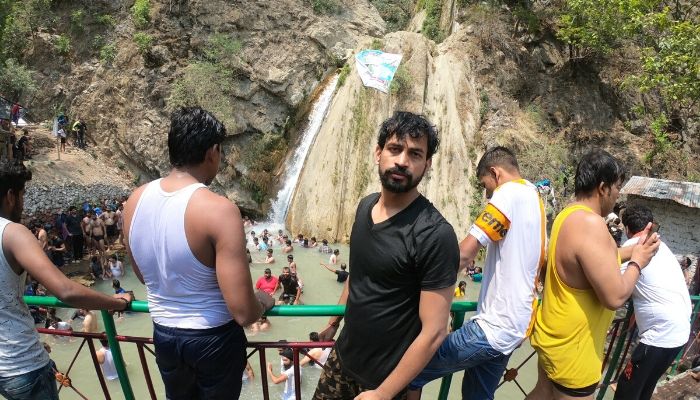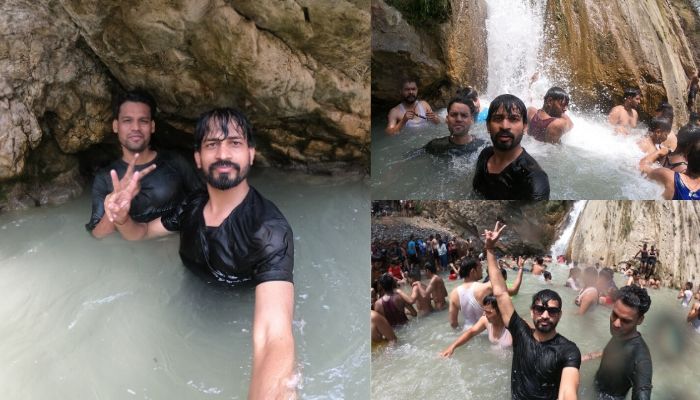 According to the itinerary, our next destination was watching Ganga Aarti at world-famous Ghat Har ki Pauri – Haridwar. We reached here from the Neer waterfall at around 5:00 Pm.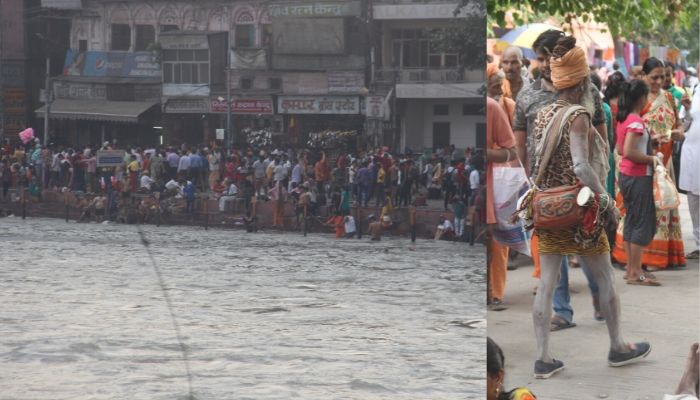 We don't have enough time to watch full Arti because we were late for home. This is my complete journey of the Rishikesh and Haridwar Adventure Trip. Thanks for reading this blog and I hope you like this article and helpful for your trip.
Must Read = Trekking and Relaxing Trip at Shimla in Weekend