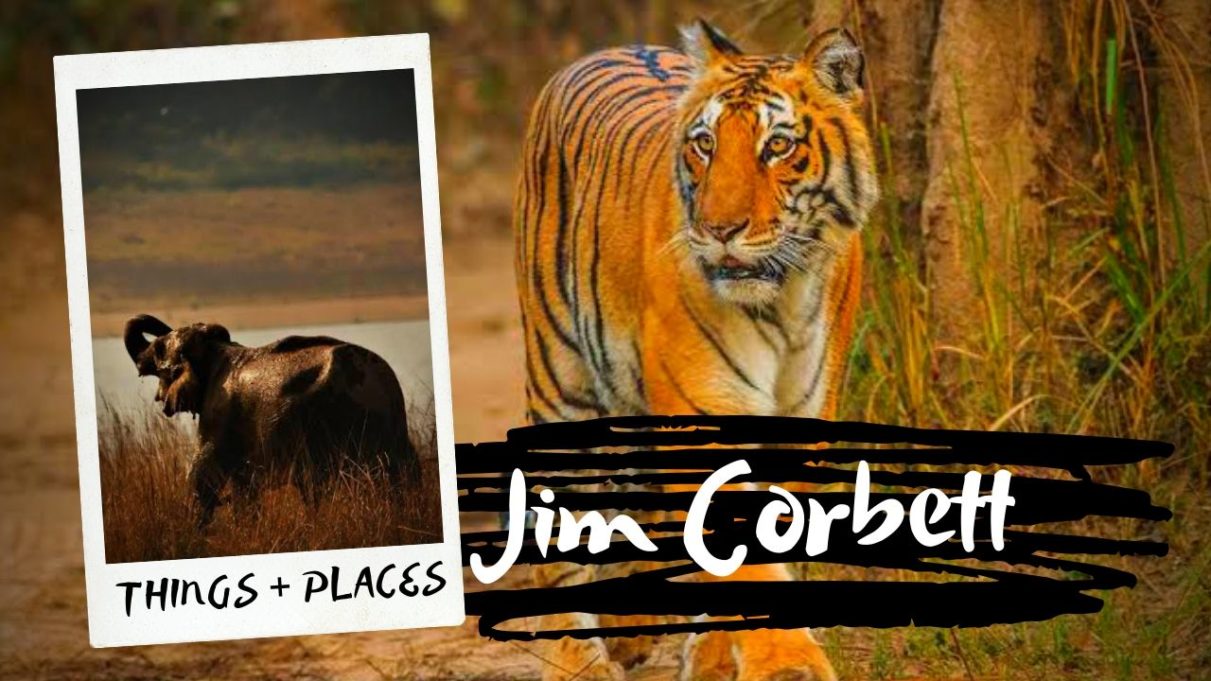 Things To Do & Tourist Places to Visit in Jim Corbett
Jim Corbett was established in 1936 and is the oldest national park in India. The park houses a variety of flora and fauna, in numbers that are around 480 in species. In the park, one can see many wild animals and birds that are the perfect treat for wildlife photographers.
If you are visiting the park, then you must see Royal Bengal Tigers that were kept in the park during the launch of Project Tiger. The Project was launched in 1973 to save endangered species. The park is spread over 500 sq. km. and the park is divided into 5 zones Jhirna, Dhikala, Sonanandi, Domunda, and Bijrani. Do not forget to go for Jungle Safari to explore the park and you can hire a guide for safety. Here, I am sharing the best activities and places to visit during your Jim Corbett trip.
Activities and Places in Jim Corbett that you must indulge in your Trip
Jungle Safari
Corbett Waterfall
Garjia Temple
Corbett Museum
Kosi river and rafting
Fishing in Corbett
Gyan Yatra
1. Jungle Safari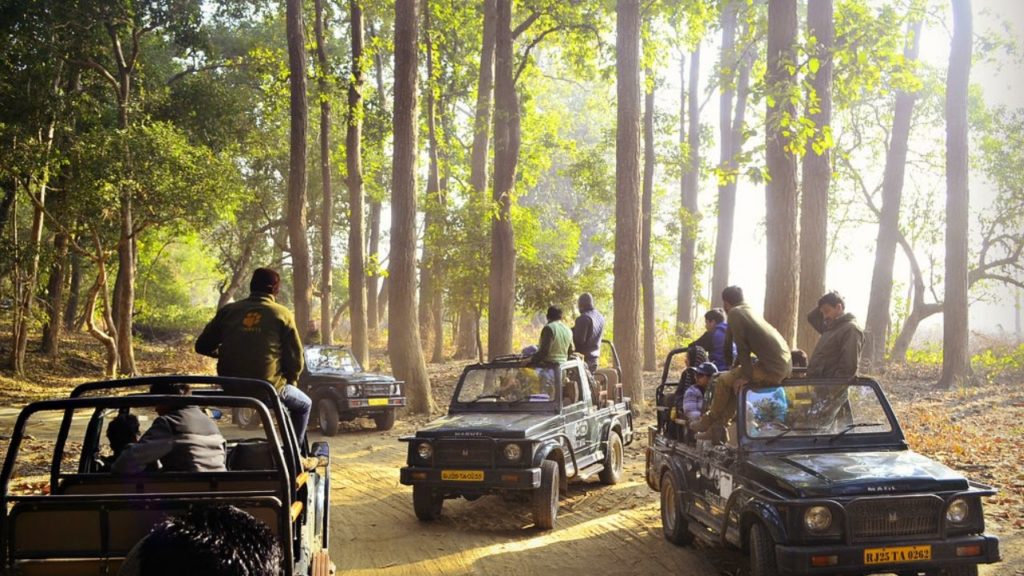 The park is divided into 5 zones and there are three types of safaris to explore the zones. The Canter, Elephant Safari and Jeep Safari are the types of safaris to see the varied variety of wildlife animals like Royal Bengal Tiger, Barking Deer, Jackal, Wild Boar, Elephants, Sloth and lots more. Safaris are organized throughout the day but end before sunset. At once a maximum of 6 people can go for the safari and the duration of safari lasts about 3 hours.
The place is well connected to all the major cities of India by the railway station and the best time to visit the place is between November and February.
Visiting hours = 7:00AM – 6:00PM
Charges = For Indians – INR 1500-INR4500 & For Foreigners – INR3000-INR6000
Trip Duration = Around 3-4 hours
People also Like to Read = Best captivating Activities in Rishikesh
2. Corbett Waterfall
This waterfall is the best spot for picnic lovers because the place is surrounded by dense forests and offers a great environment. The waterfalls from a height of 66 feet and forms a pool at base that makes the place a perfect spot for camping and nature lovers. To reach the place one needs to hire a private cab and hike a small distance to reach the waterfall. There is no need to hire an instructor to enjoy at the waterfall because the place is easy to reach and is completely safe.
Visiting hours = 7:00AM – 5:00PM
Entry fee = Free
Trip Duration = Around 1-2 Hour
People Also Like to Read = Best Tourist visiting Places in Dehradun
3. Garjia Temple
This temple is located near Kosi River and the temple is dedicated to Goddess Parvati. Tourists need to hire a private cab to visit the temple and climb the stairs to reach the temple. At the temple, one can see deities of Lord Shiva, Goddess Saraswati, Lord Ganesha, and Baba Bhairon. On Karthik Poornima, a fair is organized in a temple that is attended by a large crowd.
Visiting hours = 6:00AM to 8:00PM
Entry fee = Free
Trip Duration = Around 1-2 hours
4. Corbett Museum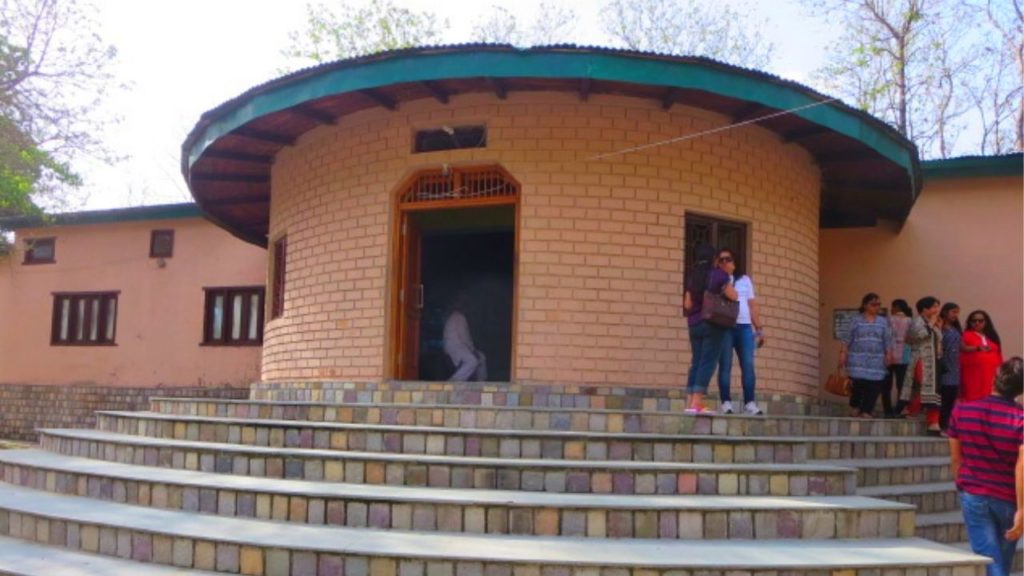 The museum is a must to visit for culture and history lovers. Inside the museum, one can see various antiques and wildlife photographs. The museum is located at Kaladhungi and can be reached by hiring cabs or private vehicles. The place is named after tiger conservationist, Jim Corbett; and inside the museum, his personal belongings are kept and some of them are antiques.
Visit timings = 8:00AM – 6:00PM
Charges = INR 10 – INR 50
Ideal Duration = Around 1 hour
5. Kosi River & Rafting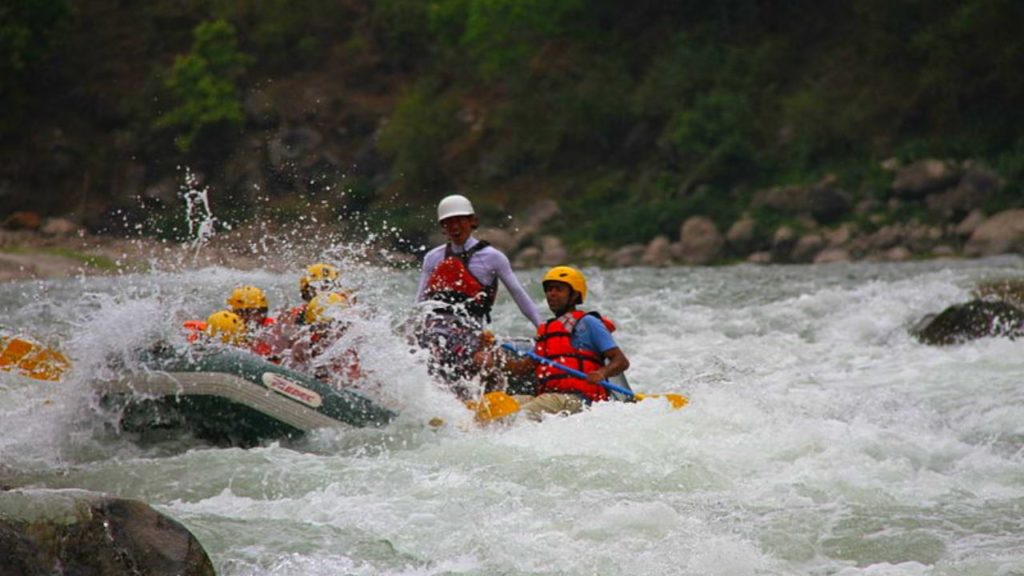 It's a beautiful place and offers breathtaking views of majestic hills. The river serves as a major source of water for national parks, but the water doesn't even enter the park boundary. Several water sports are organized at Kosi River and one of the best things to do is River rafting. At once 8 people can go for rafting along with a guide. Tourists are given life jackets for safety, in case anyone falls in the water.
Visiting Timings = 10:00AM – 6:00PM
Entry fee = INR 300 onwards
Trip Duration = Around 1-2 Hours
6. Fishing in Corbett
Around the Kosi river people can try fishing, several fishing camps are organized by the department. If you are new to fishing, then you can learn the basics of fishing by the staff that organizes the fishing activity. The fishing gears are provided by the activity organizers but one needs to pay a certain amount for rent.
Visiting hours = 9:00AM – 6:00PM
Trip Duration = Around 1-2 hours
Entry Fee = Free
Suggested Read = Best Activities in Haridwar for Regional Holidays
7. Gyan Yatra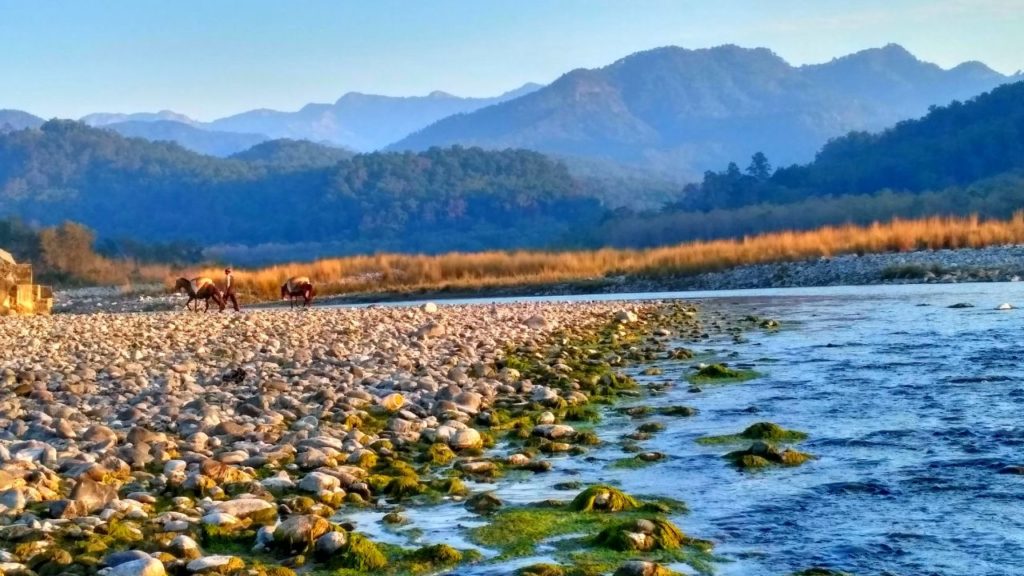 This is a special program that is organized to spread knowledge about Jim Corbett and wildlife. In the program, tourists can do nature walks and an elephant ride to explore the flora and fauna. Gyan Yatra is a must to do if you want to know about the national park.
Visiting hours = 9:00AM – 6:00PM
Trip Duration = Around 1 hour
Frequently Asked Questions?
Q. How to reach Jim Corbett?
A. By Air – Jim Corbett doesn't have its own airport, but you can hire a flight to Dehradun Airport that is the nearest airport from Corbett.  
By Rail – Ramnagar, Gaushala and Kotdwar are three railway stations connected to the town. Regular bus services are available in Jim Corbett.
By Road – There are regular bus and private cab services all around the city that connects the whole town.
Q. What type of food is available in Jim Corbett?
A. There are several hotels and restaurants in Jim Corbett where you can enjoy the North Indian, Mughlai, Continental and local cuisines. 
Q. Best time to visit Jim Corbett?
A. November to February is the best time to visit Jim Corbett because during this time the weather becomes pleasant to explore and enjoy the activities at the park. Make sure you do not visit the place during Monsoon season because during this time the place remains closed.
Q. Is it important to hire a guide?
A. Some activities might require you to hire an instructor for safety reasons but hiring a guide is the personal decision of tourists. 
Q. How many days it takes to explore Jim Corbett?
A. It takes around 2 days to explore the place and enjoy the full activities at the park.
Q. How far are hotels & restaurants from Corbett?
A. There are several hotels and resorts all around the town. One can find budget hotels to luxury hotels in town.