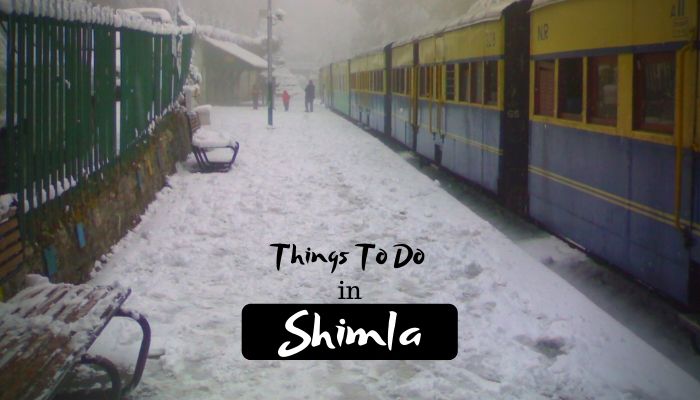 11 Amazing Things to do in Shimla – Queen of Hill Station
Shimla – "Queen of Hills", is a perfect place for enjoying adventure activities. Shimla needs no introduction because of its beauty, sightseeing & natural climate. It takes around 7 hours from Delhi and you can visit Shimla either by private vehicle or public transport. Best to visit Shimla is from December – February to enjoy the snow.
People also like to visit Shimla during the summer season because of the pleasant climate. There are activities to enjoy every season, in winter people, go for ice skating, trekking, and in summer season paragliding is a must to do. Here, I am going to share with you some best things to do in Shimla.
Traveler must do these activities in Shimla for best experience: –
Paragliding
Toy Train Ride
Ice Skating
Shopping at Lakkar Bazaar
Camping in Shimla
River Rafting
Cycle Ride in Forest
Swimming and Picnic at Waterfalls in Shimla
Bird watching in Shimla
Golfing at Naldhera
Wax Museum
1. Paragliding
Paragliding over the queen of hills is a must to do the activity and the Kangra Valley in Shimla is the only place where paragliding is organized for tourists. The activity is organized in the months of March to June and to experience paragliding you can hire a private cab or public transport. While enjoying paragliding tourists are accompanied by a professional instructor for safety. While gliding across the sky you will have a birds-eye view of beautiful landscapes that are worth watching.
Location = Kangra Valley
Timings = 9:00AM – 6:00PM
Charges = INR 1000 onwards
2. Enjoy Toy Train Ride
Riding in the toy train is one of the fascinating things for many tourists because the train runs on an old railway line through the mountains and forests. On the train one can see the pictures of the whole palace. While riding on the train you can see the end part of the train because the train moves on curved tracks. The most fascinating fact about the train is that the route of rail passes through a tunnel that was featured in most haunted places in India.
Location = Kalka-Shimla toy train ride
Timings = 10:00AM – 5:00PM
Charges = INR 50 onwards
3. Ice Skating
Ice skating is a must to try in Shimla because the skating rink is the only open-air rink in Asia. The rink is visited by thousands of people to show off skills. The ice in the rink is formed by a technique that was taught by Britishers. The place is surrounded by forests and the low temperature prevents ice from melting. One can hire an instructor to learn basic skills to enjoy the activity and also you can hire gears for skating.
Timings = 8:00AM – 8:00PM, December to March
Charges = INR 100 – INR 200
4. Shopping at Lakkar Bazaar
If you are searching for a place to hang out at night in Shimla, then you must visit Lakkar Bazaar. In the evening the place becomes so beautiful that the market is visited by many tourists and while roaming here you can buy handicrafts, artifacts, and other woolen items.
Location = Lakkar Bazaar
Timings = 9:00AM – 8:00PM
Charges = Free
5. Camping in Shimla
Resting in Nature is a totally different experience for people who haven't done camping in life and they should. Spending night under stars around a bonfire and waking up with beautiful landscapes is an adventure that is a must to do. There are several spots in Shimla for camping and to find a perfect spot for camping you need to trek a distance. You can carry your own camping gear or rent them contacting Hotel staff or the organizers.
Location = Redwood camp, Mashobra Greens, Kheerganga Camping Company
Timings = All-day
6. River Rafting
Rafting through lakes in Shimla is a must to do for adventure lovers. The Satluj lake is surrounded by lush green forests and valleys. At once 8 people can go for rafting in the lake along with a professional instructor. People who fear water can also go for rafting because a life jacket is provided to everyone for safety purposes. To enjoy the activity one can, contact hotel managers or directly contact the rafting organizers.
Location = Chabba to Tattapani
Timings = 9:00AM – 7:00PM, March to June
Charges = INR 1000 Onwards
7. Cycle ride in the forest
Taking a break from hustle life and having a cycle ride through the forests is a perfect adventure. While cycling in the forest you might see some wildlife animals roaming around but there is harm from them. You can either be a part of a cycling group or just rent a cycle and can go solo. Kufri is the best place in Shimla that is just perfect for cycling but only in the summer season because in winter no cycling is organized due to heavy snowfall.
Best Location = Kufri
Timings = 9:00AM – 7:00PM
Charges = INR 500 onwards
Suggested Read = Trekking Trip in Shimla During Weekend Holidays
8. Swimming & picnic at waterfalls in Shimla
There are two famous waterfalls in Shimla that are perfect for swimming and to enjoy some quality time with family in heavenly nature. The waterfalls form a pool at the base where people can sit around for a picnic and also enjoy swimming. The whole area of the waterfall is surrounded by beautiful flora and fauna that enhances the beauty of the place. You can visit the waterfall at any time of the day, but the best time is during sunrise and sunset to witness the real nature. To reach the place you can hire a private cab or public transport but you will need to hike a distance of a few km to reach the actual place.
Location = The Glen, Chadwick Waterfall
Timings = 10:00AM – 5:00PM
Charges = Free
9. Bird Watching
The bird sanctuary has varied species of birds and other wildlife animals. The place is heaven for bird lovers, and you must carry your camera to capture the beauty of wildlife. Barbets, Musk deer, Flycatchers, and thrushes are some bird species that you will likely be seeing in Sanctuary. You can reach the sanctuary by hiring a private cab. There is no need to hire an instructor or guide to enjoy at sanctuary one can just simply buy a ticket and enjoy.
Location = Water Catchment Sanctuary
Timings = 9:00AM – 7:00PM
Charges = INR 100 per person
10. Golfing at Naldhera
Naldhera is the only place in Shimla where tourists can enjoy Golf. The place is having charming surrounding and the golf course is made beautifully to enhance the golfing experience. The golf course provides 18 holes in the golf course and if you're new to the sport then you can take the help of instructors to learn basic skills.
Location = P.O. Durgapur, Naldhera
Timings = 7:00AM – 7:00PM, April to September
8:00 AM – 5:00 PM, October to March
Charges = INR 400 – INR 600
11. Wax Museum
Johnnie's Wax Museum is a major attraction for those who love art. There are 16 statues of popular personalities from movies, sports, and politics. The statues in the museum are life-size and you can also see statues of many international personalities like Barack Obama, Harry Potter and many more.
Location = Near Willow bank, 2, Mall Road, Shimla
Timings = 9:00AM – 8:00PM
Charges = INR 250 per person
Frequently Asked Questions
Q. What is the best time to visit Shimla?
A. If you love snow then November to February is the best to visit but if you want to beat the heat then June to September is the best time to enjoy in Shimla.
Q. How to reach Shimla?
A. The best way to reach Shimla is by Private vehicle to enjoy the route but if you are on a budget then you can travel by train. Shimla is around 300 km far away from Delhi and it takes around 7 hours by road.

Q. How to commute in Shimla?
A. One can hire a vehicle or just call for a private cab to travel within the city.
Q. Is it important to hire a guide in Shimla?
A. It is not important to hire a guide but if you are new to the place then you must.
---