Jaisalmer lies in the Thar desert and one of the most visited places in Rajasthan. Jaisalmer is popularly known as the Golden City of India because of the sand and sandstones that are used in the architecture of the city. There are many tourist Places To Visit in Jaisalmer like royal forts, Havelis, palaces, museums, and temples. Desert camel safari, Jeep Safari are some of the Popular Activities in Jaisalmer.
Best Visiting Places in Golden city of India – Jaisalmer
Jaisalmer Fort
Bada Bagh
Patwon ki haveli
Salim Singh ki haveli
Sam sand dunes
Gadisar lake
Desert national park
Maharaja's palace
Camel safari
Jain temple
Tazia tower
1. Jaisalmer Fort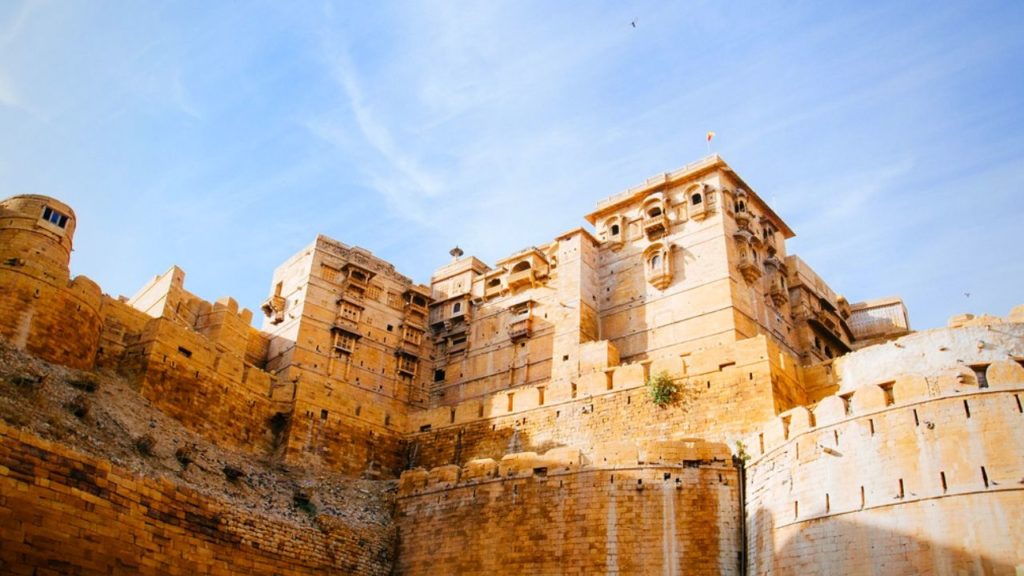 The Jaisalmer fort has four entrances namely Bhoota Pol, Rang Pol, Hawa Pol, Ganesh Pol. There is a Maharawal palace which is made of marble throne and this palace is the main attraction of the fort. Jaisalmer fort architecture blends of Islamic and Rajput styles and there are carvings and sculptures which make the Jaisalmer fort rank in glorious forts of Rajasthan. This fort also has a museum that showcases dresses, utensils, and ornaments of the Rajput Kingdom.
Visiting Hours = 8:00 AM – 5:00 PM
Entry Fee = Indian – INR50 & Foreigners – INR250 & Camera – INR 50
Trip Duration = 2-3 Hours
Must Read = Activities to Enjoy at Golden city of India – Jaisalmer
2. Bada Bagh
The fact about these chhatris is that their size varies according to the status of the royal family. Bada Bagh means "Big Garden" has chhatris of the royal family and the architecture of these chhatris is blended of Mughal, Rajput and Paliwal styles. The main source of water for Bada Bagh is an artificially built dam and this dam also serves as one of the major sources of water for the people of the city.
Visiting Hours = 8:00 AM – 6:00 PM
Entry Fee = Indian – INR 20 & Foreigners – INR 50
Trip Duration = 1-2 hours
3. Patwon ki Haveli
It is the largest haveli of Rajasthan and it has five Havelis within. The first haveli is the biggest haveli in complex and one haveli has been converted into a museum that displays a collection of rare artifacts, miniatures, antique furniture, and goods.
One of Haveli is used as private accommodation and the rest of the two Havelis houses the office of Archaeological Survey of India. The walls of the haveli are beautifully crafted and decorated with art of the erstwhile era, and it makes it one of the best places to visit in Jaisalmer.
Visiting hours = 8:00 AM – 6:00 PM
Entry fee = Indians – INR 20, Foreigners – INR 100 & Camera Cost – INR 50
Trip Duration = 1-2 Hours
Suggested Read = Places at Educational hub of Rajasthan – Kota
4. Salim Singh ki Haveli
It was built in the 18th century and the architecture of this haveli is different as the stones of the haveli are connected together by strong iron rods. The haveli's roof is based on the peacock's physical from. The roof of the structure is arched and has carved brackets in the form of peacocks. This Haveli has five storeys and 38 balconies with a distinct design.
Visiting hours:- 8:00 AM – 6:00 PM
Entry fee:- INR 50 – INR 100
Trip Duration:- 1-2 Hours
5. Sam Sand Dunes
This place is must visit in Jaisalmer and Sam sand dunes allow the visitors to explore the whole area by camel safari or a jeep safari. The best time to visit between October to March and the best to reach here in the evening or nights. While visiting here you can enjoy wonderful folk dance and music performance by local artists, and you can also camp here overnight.
Best Visiting Hours = 4 Pm – 7 Pm or 4 Am – 6 AM
Entry Fee = INR 300 – INR 1000
Trip Duration = Full Day
6. Gadisar Lake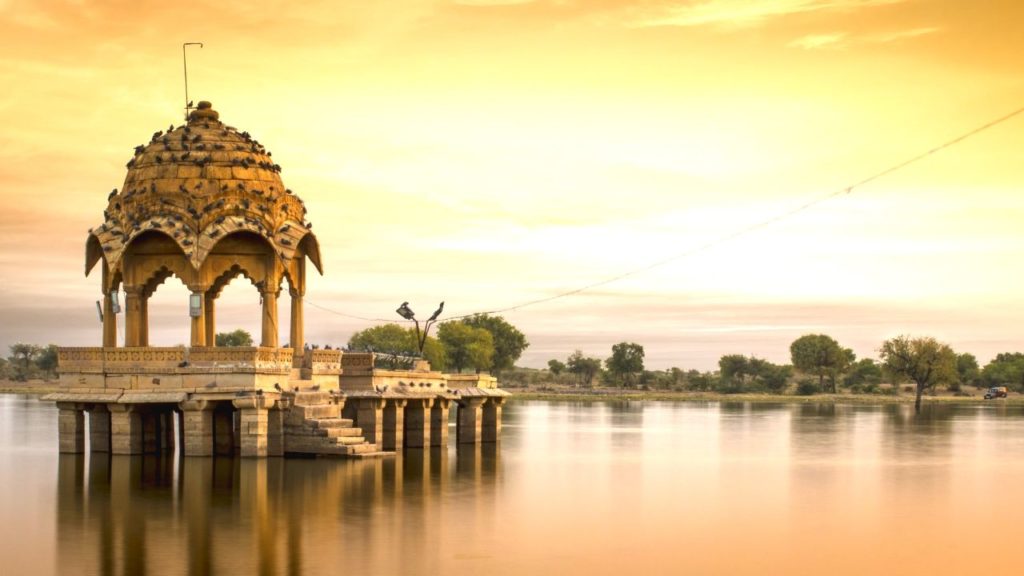 It is named after the Maharaja and it was reconstructed in 1367 AD. Gadisar Lake is accessible and can be visited at any time of the day and it is best to visit this place in the morning and at the time of sunset. Boating is available and charges vary from boat to boat, also the lakeside has become one of the popular picnic spots in Jaisalmer. If you are a photographer and traveler, then this place is best to visit in Jaisalmer. There can be some extra charges for the camera.
Visiting Hours = Always accessible
Entry Fee = Boating – INR10
Paddle Boat = INR50 – INR100
Trip Duration = 2-3 Hours
Suggested Read = Tourist Places at the city of Forts – Chittorgarh
7. Desert National Park
The Desert National Park was established in 1980 and it displays the different species of flora and fauna. You can also see here over 40 species of reptiles, animals, and birds that thrive in the desert. One should take a Jeep Safari to explore Desert National Park and visit this place in between November to January when the maximum numbers of migratory birds visit this area.
Visiting Hours = 10:00 AM – 5:00 PM
Entry Fee = INR100 for Indians & INR300 for Foreigners
INR100 for Jeep Safari & INR200 for Guide
Trip Duration = 1-2 Hours
8. Maharaja Palace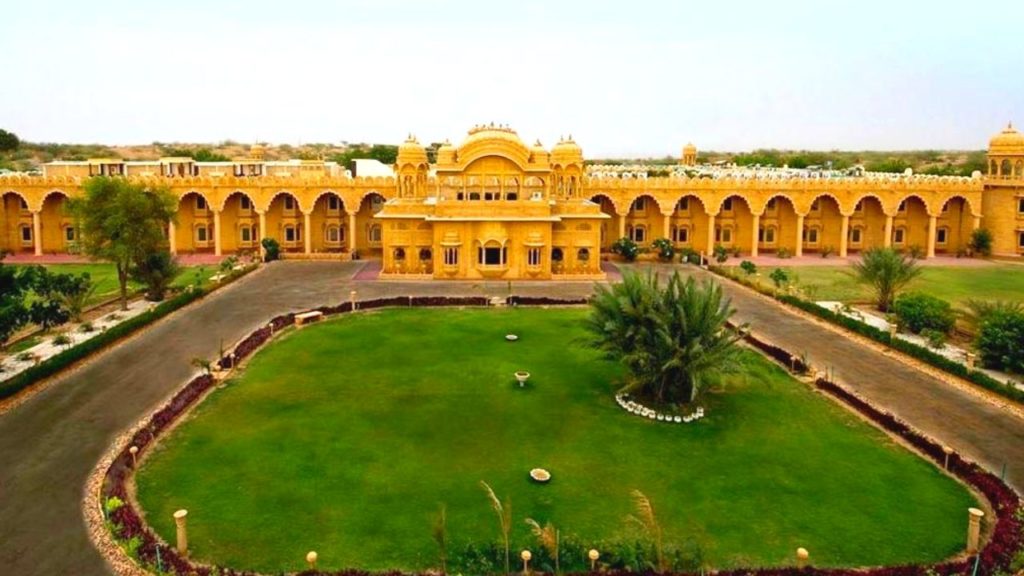 This Palace is located inside the Jaisalmer Fort and the palace showcases the lavish and grand rooms. This palace is a five-storied building in which there is a painting of maharaja that is displayed in the main hall and the walls of the recite the tales of the royal legacy.
Visiting Hours = 9:00 AM – 6:00 PM
Entry Fee = INR 250 including Camera
Trip Duration = 1-2 Hours
9. Jaisalmer War Museum
This museum was inaugurated on 24th August and was set up by the Indian Army. This place is a tribute to all soldiers of the 1965 Indo Pak war. The museum has wall paintings of soldiers and weapons used at that time. There is a 106mm Recoilless Gun which was used to destroy the number of Pakistani tanks.
Visiting Hours = 8:00 AM – 6:00 PM
Entry Fee = INR 30 per person
Trip Duration = 1-2 hours
Suggested Read = Famous Activities at city of Forts – Chittorgarh
10. Jain Temple
The Jain temple is dedicated to Rikhab Devji and Shambhavi Devji and there is total of seven Jain temples which were built in 12th century AD. There is "Sonar Quilla" that is a world heritage site and also is a huge settlement that houses various temples, houses, shops, and Havelis. On the walls of temples, there are carvings of animals and human figures.
Visiting Hours = 5:00 AM – 12:00 PM
Entry Fee = Free
Trip Duration = 1-2 Hours
11. Tazia Tower
In this tower is a five-storied complex having each story a unique balcony and there are designs and carvings on the walls and ceilings of each floor of the tower. This tower was built by Muslim craftsmen and construction is made of wood, thermal and colored papers. These were once the homes of the former royal family.
Visiting Hours = 8:00 AM – 6:00 PM
Entry Fee = Free
Trip Duration = 1-2 Hours
Suggested Read = Best & Famous Tourist Places at Ajmer
Frequently Asked Questions?
Q. How to reach Jaisalmer?
A. You can reach Jaisalmer by air and train both options are available for tourists and the nearest airport is Jaisalmer & the nearest Railway Station is Jaisalmer Junction.
Q. What is the name of Jaisalmer airport and Railway Station?
A. Airport = Jodhpur Airport (281 km) & Railway Station = Jaisalmer Railway Station
Q. Can we carry a Camera inside forts and monuments?
A. There is no such objection on carrying a camera inside, but some places charge some extra amount for cameras.
Q. Best time to visit Jaisalmer?
A. The best time to visit Jaisalmer is between October to March. People mostly visit Jaisalmer from December to February.
Q. How many days are required in Jaisalmer?
A. The ideal trip duration for Jaisalmer is 2 days to explore the city.