Best Places To Visit in Bikaner for Spectacular Holiday
Bikaner is located in Rajasthan – India and this place are also called the Desert town of the camel Festival. There are many surprises places to visit in Bikaner for visitors like the camel festival and a famous temple of rats. The city has one of the world's largest camel research and breeding farms. The best activities to enjoy at Bikaner to serve the foods for thousands of rates at Karni Mata Temple.
Best Tourist Visiting Places in Bikaner
Junagarh Fort
Lal Garh Palace and Museum
Ganga Government Museum
Laxmi Niwas Palace
Karni Mata Temple
Gajner Wildlife Sanctuary
Gajner Palace and lake
Rajasthan State Archives
Jorbeer
Prachina Tourism
Horse Eco-Tourism
1. Junagarh Fort
This Fort was built in the 15th century and was initially called Chintamani, the palace was renamed in the 20th century from Chintamani to Junagarh Fort. As the state was ruled by many different rulers and due to cultural differences one can witness a composite architectural style.
Visiting hours = 10:00AM – 5:00PM
Entry fee = From INR50 to INR300
Trip Duration = 2-3 Hours
Must Read = Activities at Bikaner for Unforgettable Trip
2. Museum & Lal Garh Palace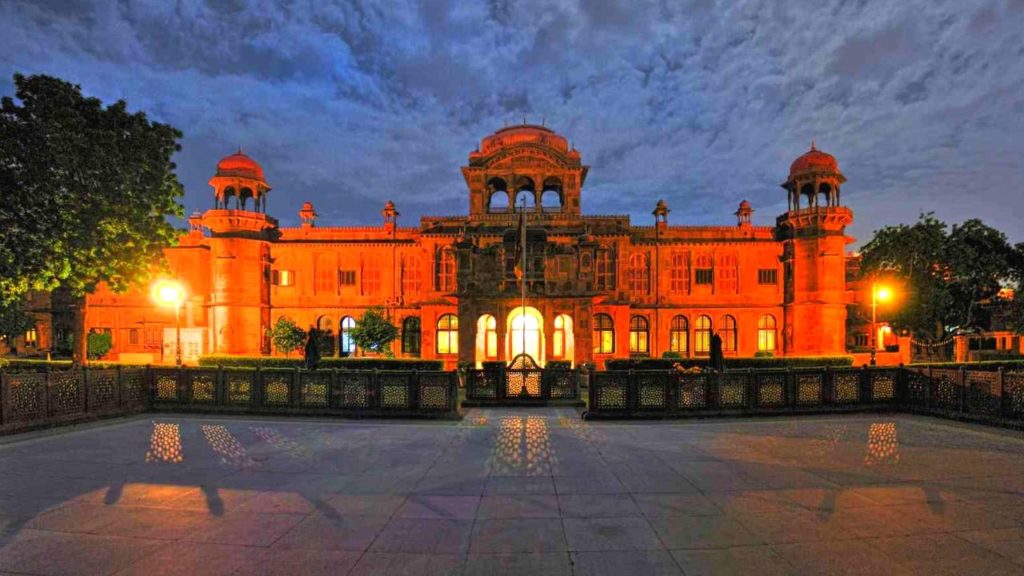 Lal Palace was built in 1902 for the Maharaja of Bikaner. One can stay at the Lal Garh palace as it's now opened for tourists, visitors. Who stays here are amazed by royal hospitality, massive rooms, and Rajasthani culture. The palace architecture has magnificent gardens and the architecture of pillars and fireplaces are built with red sandstones.
Tip: In some areas of estate, photography is not allowed.
Visiting hours = 10:00AM – 5:00PM (closed on Sunday)
Entry Fee = INR20
Trip Duration = Around 1-2 Hours
3. Ganga Government Museum
This Museum is the best museum in the state and the museum has many archaeological antiques such as pottery, paintings, artwork, and this museum is the perfect attraction for people who like to peep into history. Archaeological artifacts are from the Harappa and the early Gupta periods.
Visiting hours = 10:00AM – 4:30PM (Closed on Friday)
Entry fee = INR 30
Trip Duration = Around 1-2 Hours
Suggested Read = Tourist Places at Golden city of India – Jaisalmer
4. Laxmi Niwas Palace
This Palace is a 5-star hotel and is one of the most luxurious places to stay. This palace was the residence of Maharaja Ganga Singh, the king of Bikaner and now open for people as a hotel. The palace also has a museum that displays the royalty of Bikaner.
Visiting hours = Anytime
Room fee = INR 10,000 and above (double-sharing)
Location = Lalgarh campus, Doctor Karni Singhji, Samta Nagar, Bikaner
5. Karni Mata Temple
The Karni Mata Temple is the most popular tourist spot among devotees, the temple is famous for the fact that 25,000 black rats live here and are worshipped in the temple. People come from all over the world to temple, to pay respect to rats and that is why the temple is also known as the Temple of rats.
While praying and exploring the temple one should be careful and do not step on rats as they are considered to be religious.
Visiting Timings = 4:00AAM – 10:00PM
Entry Fee = Free
Trip Duration = Around 1-2 Hours
6. Gajner Sanctuary
This Wildlife Sanctuary is a lush green forest in the desert, this sanctuary is home to nilgai, chinkara, blackbuck, wild boar, and many other species of migratory birds. The place has innumerable flora and fauna and a perfect place to visit for photography enthusiasts.
Visiting hours = 10:00AM – 5:00PM
Per Hour Pricing = INR 100 per person
Trip Duration = 1-2 Hours
Suggested Read = Places at Educational hub of Rajasthan – Kota
7. Gajner Palace and Lake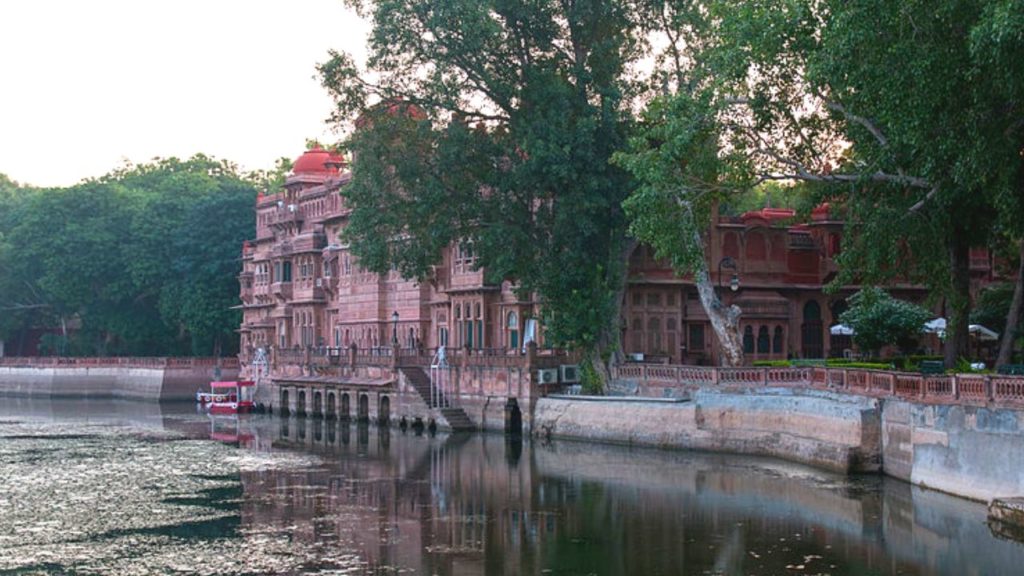 Palace is located on the bank of Gajner lake. The palace was built in 1784 to serve as a hunting and relaxing lodge for the royal family and for visiting guests. Gajner Palace has the best hospitality and the people who accommodate here get the best vibrant cultural ambiance. To have a better experience, you need to book lake facing rooms as they are in high demand.
Visiting hours = 8:00AM – 6:00PM
Trip Duration = 2-3 Hours
8. Rajasthan State Archives
People who visit Rajasthan State Archives are mostly visited by researchers and academicians to study ancient administrative records. The records are backdated to the Mughal period and include other Persians, Nishan's, Manshurs, etc.
Visiting hours = 9:00AM – 7:00PM
Trip Duration = 2-3 Hours
9. Jorbeer
This place is one of the best places to visit in Rajasthan for bird watchers, who want to spot vultures. Jorbeer is around 12 km from the city and watchers visit here to see eagles, vulture species.
Visiting hours = 9:00AM – 8:00PM
Entry fee = Free
Trip Duration = Around 1 hour
Suggested Read = Best & Famous Tourist Places at Ajmer
10. Prachina Museum
The Museum was established in 2000 by the daughter of Maharaja and the museum has a collection of royal accessories, artwork, unique class artifacts also portraits of Maharajas. The museum has displayed many objects that show the rich lifestyle of royal Bikaner.
Visiting hours = 9:00AM – 6:00PM
Entry Fee = Up to INR100
Trip Duration = Around 2 hours
11. Horse Eco-Tourism
The horse eco-tourism campus is open for tourists and the campus has horse riding, Tonga riding, pony riding, Buggy riding in the green zones. Another beautiful part of the campus is the Souvenir shops offering the handicraft items, leather items, and traditional Rajasthani items.
Visiting hours = 6:00AM – 6:00PM
Trip Duration = Around 1 Hour
Suggested Read = Tourist Places at Alwar for Memorable Holiday
Frequently Asked Questions?
Q. How to reach Bikaner?
A. You can reach here by Air and the Airport name is Nal Airport (13 km) & Bikaner is well-connected with the train and the railway station name is Bikaner Junction and Lal Garh Railway Junction (6 km). The city well connected to all nearby states and an excellent option for people who like to ride long.
Q. What is the name of Bikaner Airport and Railway Station?
A. Airport = Nal Airport & Railway Station = Bikaner Junction
Q. Can we carry a Camera inside the monuments?
A. There is no such objection on carrying a camera inside, but some places charge some extra amount for cameras
Q. Best time to visit Bikaner?
A. The Best time to visit Bikaner is between October to February & the ideal trip duration for Bikaner to explore is around 3 days and the Camel festival takes place in January every year.
Q. What are the Best Places to visit in Bikaner?
A. There are many options are available for tourists in Bikaner like explore Karni Mata Tempel, Gajner Wildlife Sanctuary, Junagarh Fort and many more.